Dark Horse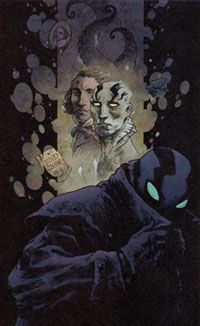 House of Gold & Bones #1 of 4 - Written by Slipknot's Corey Taylor, based on the new album by Stone Sour. Art by Richard Clark. $3.99

Abe Sapien: Dark and Terrible #1 of 3 - Looks like the first of a continuing series of stories about old Fish Face. Art by Sebastian Fiumara. $3.50

Hellboy Library Edition Vol 6 - Enough said. 376 pgs. $49.99

The Massive #1 for $1 and Mind MGMT #1 for $1. Try out the first issues of the genre pushing series by Brian Wood and Matt Kindt for only one lousy dollar.

Amala's Blade #1 of 4 - Continuation of the swashbuckling series started in Dark Horse Presents. $3.50

Dark Horse Presents #23 - New stories start: Bloodhound the supervillain tracker by Dan Jolley and Leonard Kirk. Psychic espionage in Brain Boy by Fred Van Lente and Freddie Williams II. King's Road by Peter Hogan and Phil Winslade. 80 pages for only $7.99

X #0 - The return of the masked vigilante from Comics Greatest World. Reprints the stories from Dark Horse Presents by Duane Swierczynski and Eric Nguyen. $2.99

The Adventures of Dr McNinja Omnibus - Reprinting the Doctor's earliest adventures. 504 pgs. $24.99

Lone Wolf 2100 Omnibus - Mike Kennedy and Francisco Ruiz Velasco re-imagine Lone Wolf and Cub in the future. 296 pgs. $24.99

DC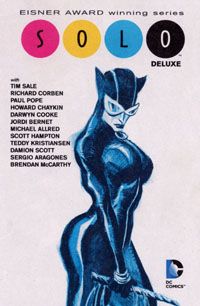 Detective Comics #19 - The 900th issue of Detective Comics. John Layman and Jason Fabok. 80 pg. $7.99

Batgirl #19 - New writer Gail Simone takes over. $2.99

Solo Deluxe HC - Twelve issues by twelve of the best living artists. Sale, Corben, Pope, Chaykin, Cooke, Bernet, Allred, Hampton, Kristiansen, Scott, Aragones, McCarthy. If you don't recognize any of these names then you really need to buy this book you philistine. $49.99

Stormwatch Vol 2 HC - The end of Warren Ellis' run including the introduction of Apollo and Midnighter. 384 pg. $29.99

In the Days of the Mob HC - Jack Kirby does weird stuff for DC. 108 pg. $39.99

Superman: The Golden Age Omnibus Vol 1 HC - See the first adventures of Superman. See him violate people's rights. See him destroy private property. See him stalk Lois Lane. 784 pg. $75.00

Batman: Li'l Gotham #1 - Enjoy the adventures of chibi vigilantes and villains running around Gotham City getting into all kinds of wacky highjinks. All Ages. $2.99

Lucifer Book One TP - The first volume in Mike Carey's Vertigo series about the retirement of Sandman's favorite Lord of Hell.

IDW

Dungeons & Dragons: Cutter #1 of 5 - Written by R.A. Salvatore. Includes dark elves. Nuff said. $3.99

The Colonized #1 of 4 - Aliens vs zombies vs militiamen. Too much said. Chris Ryall and Drew Moss. $3.99

Godzilla: The Half-Century War TP - If you didn't get this in single issues you better get the collection. Or else. James Stokoe drawing. Nuff said. 124 pg. $19.99

Image

Jupiter's Legacy #1 - The long awaited collaboration between Mark Millar and Frank Quitely finally arrives. The children of the first generation of superheroes are losers. Look for issue #2 in 2014. $2.99

Chin Music #1 - Steve Niles and Tony Harris tell the story of a fugitive time traveler stuck in prohibition era Chicago surrounded by gangsters and demons. $2.99

Miniature Jesus #1 of 5 - Ted McKeever draws pretty pictures and writes weird stories. Golden age format. $3.99

A Distant Soil #39 - After a six year hiatus, Colleen Doran finally gets around to finishing off her sci-fantasy series. $3.50

Marvel

Thanos Rising #1 of 5 - Because Marvel Studios put a Thanos cameo at the end of The Avengers, Disney demanded that Marvel write a Thanos comic. Here it is. Jason Aaron and Simone Bianchi. $3.99

X-Men #1 - The X-Women "finally" get their own book - and Marvel has titled it X-Men because Marvel knows that Marvel readers are afraid of women. Probably with lots of Wolverine appearances. Because Wolverine loves the ladies. The ladies don't necessarily love Wolverine but don't tell Wolverine that. Brian Wood and Olivier Coipel. $3.99

Wolverine: Season One HC - Another retelling of the early years of the Minuscule Manitoban. 136 pg. $24.99

The uncharted realm known as The Back of Previews
Tales of Fear #1 - Six horror stories by Gary Scott Beatty. "Pushing the boundaries of good taste." Aazurn Publishing. $4.75

Rogues! #1 - El Torres and Juan Jose Ryp tell a humorous? and violent? (humorously violent?) tale of two master thieves in a fantasy world. Amigo Comics. $3.99

Gold Digger #200 - Fred Perry has been doing this for 22 years. Throw him a bone people. Antarctic Press. $3.99

Sesame Street #1 - Get the comic based on the hot new children's show. Comes with five interlocking covers and a sixth Super Elmo cover and a retailer incentive cover and a hard cover. Brought to you by the letter $. Ape Entertainment. $3.99 & $7.99

Jirni #1 - Another new series from Aspen. Warrior-princess Ara is on a journey through fantasy lands. Will she learn how to spell? J.T. Krul and Paolo Pantalena. $1.00

Uber #0 - What if the Nazi's has super humans during WWII and the Allies didn't and what if Kieron Gillen and Caanan White told the story with lots of violence and (cross your fingers) nudity? Would Avatar publish it? You bet! $3.99

Regular Show #1 - What the comic industry needs is another adaptation of an animated TV show and Kaboom! brings it to us with lots of variant covers. $3.99

Polarity #1 of 4 - What the comic industry needs is another book written by a slumming musician* and Boom! brings it to us with a free song download. (* Say Anything "frontman" Max Bemis) $3.99

Miss Fury #1 - What Dynamite needs is another book about a scantily clad female butt-kicker. Rob Williams and Jack Herbert bring back the pulp not-Catwoman with lots of variant covers. $3.99

Atomcat - Osamu Tezuka returns to Astro Boy territory with this all-ages send-up. $12.95

Bela Lugosi's Tales from the Grave #3 - Finally another issue of this horror anthology. The original Dracula may have been dead for 56 years but he can still introduce stories From the Grave. Monsterverse. $3.99

A1 #1 of 6 - The ground breaking anthology series from '89-'92 returns for another go. If the level of new talent this time around is anything like the talent in the first series, this promises to be a classic. Titan Comics. $3.99


Solid State Tank Girl #1 of 4 - Speaking of A1 alumni, Tank Girl gets another mini-series of outrageousness. Art by Warwick J. Cadwell. Titan Comics. $3.99

Tiger & Bunny Vol 1 - Adaptation of the anime series about two mis-matched "buddy" cops taking down super villains. Viz. $9.99

Doubt Omnibus Vol 1 - Five players of a cell phone game are faced with Murder! Yen. $18.99

Not Comics, Oh My!

Interworld, Silver Dream, Unnatural Creatures - Three books with writing by Neil Gaiman. Pictures not included. $9.99 & $18.99

Puppetmaster 1/1 scale replicas - Choose from Cyclops or Dr Death and relive those happy days watching puppets kill people. $200.00

Happy Man Bottle Stopper - Reseal all your bottles with the Happy Man's giant cock. $7.99

Star Trek: The Next Generation Communicator Badge replica - A replica of the communicator badge worn by the crew on Star Trek: The Next Generation - $19.95

The Complete Space: 1999 Megaset DVD - Remember back in 1999 when the Moon was blown out of orbit and the people on our moonbase were trapped there for two seasons? Watch the show where producer Gerry Anderson made live actors act like puppets and the laws of physics were taken out behind the woodshed and clubbed like baby seals. $99.95